The bus fleet of Busvermietung24
Thanks to our collaboration with more than 500 contract partners in the whole of Germany, we can provide buses in all comfort classes and sizes. We are therefore in a position to find the ideal vehicle for each and every requirement. Starting with small buses with 8-16 seats, over a normal tour coach with capacities of 32 -49 seats up to double decker buses having 89 seats – no wishes are left unfulfilled at Busvermietung24.
You have a choice: within the fleet, you can again choose different vehicles boasting different quality standards. These range from simple highway buses without too much of comfort right up to travel coaches having extensive comfort characteristics and therefore do not leave any desires unfulfilled. Even long distances are no problem for these vehicles - a relaxed journey is guaranteed. We consider extravagant wishes like a tour coach with full-leather fittings or a bus with TV connection to be a challenge!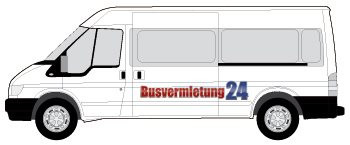 Minibus, from 14 to 20 seats
(depending on the equipment of the bus)

Tour coach from 20 to 30 seats
(depending on the equipment of the bus)

Public service bus from 32 to 42 seats
(depending on the equipment of the bus)

Tour coach from 34 to 46 seats
(depending on the equipment of the bus)

Tour coach from 46 to 57 seats
(depending on the equipment of the bus)

High ceiling tour coach from 34 to 54 seats
(depending on the equipment of the bus)
Double decker bus* from 54 to 79 seats
(depending on the equipment of the bus)
Luxury double-decker bus* from 79 to 88 seats
(depending on the equipment of the bus)
* Two buses can also be planned if the number of passengers is 80 or more